For smokers longing to kick the habit, yet craving that familiar sensation of inhaling rich, robust tobacco, finding a satisfactory substitute can be a challenge. The leap from traditional smoking to a healthier alternative can feel like stepping into an alien world. But imagine a device that seamlessly bridges this gap, offering a smooth transition from the smoky clouds of tobacco to a cleaner, healthier experience. Welcome to the universe of the Tobacco Elf Bar Disposable Vape.
This elegant, pocket-sized powerhouse may just be the magic wand you've been seeking. With its on-demand operation, this vape delivers that nostalgic tobacco sensation, minus the mess and health risks associated with traditional smoking. Offering around 600 puffs per device, it's designed to outperform its combustible counterparts, providing that desired throat hit minus the tar and ash.
The Tobacco Elf Bar Disposable Vape is more than a nicotine delivery system; it's a passport to a healthier lifestyle without severing ties with the familiar. Combining convenience, affordability, and satisfying flavors, this vape is increasingly finding favor among those on a mission to quit smoking. So, is this the game-changer we've been waiting for? Let's take a closer look to uncover the truth.
Last update was on: July 15, 2023 2:31 am
What is a Tobacco Elf Bar Disposable Vape?
The Tobacco Elf Bar Disposable Vape is a compact, ready-to-use vaping device. Offering around 600 puffs, it's equivalent to more than 20 cigarettes, providing a robust hit without the inconvenience of refilling, recharging, or maintenance.
How does a Tobacco Elf Bar Disposable Vape Work?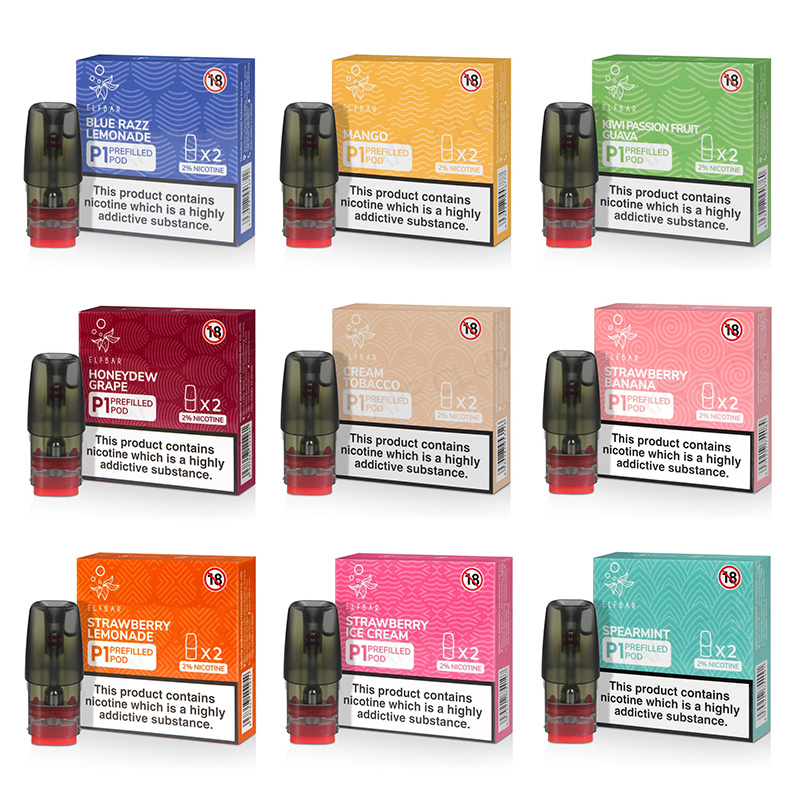 Elf Bar P1 Pre-filled Replacement Pod Cartridge 2ml (2pcs/pack)-20mg-Cream Tobacco
as of July 15, 2023 2:31 am
Simplicity and efficiency are at the heart of the Tobacco Elf Bar Disposable Vape's design. If you're looking for an uncomplicated, user-friendly device, then this vape is your answer. Here's how this marvel works:
In the bustling world of vaping devices, many products come adorned with an array of buttons, dials, and screens, often leaving novices feeling daunted. But the Elf Bar removes these hurdles, offering an intuitive experience that requires no previous knowledge or learning curve.
Unlike traditional vapes, the Elf Bar is inhale-activated. Yes, you read it right! There are no buttons to press or temperature settings to adjust. All you need to do is draw in a breath, much like you would while smoking a conventional cigarette. On inhalation, the device's mechanism kicks into gear, automatically heating the pre-filled nic salt e-liquid to produce a smooth, satisfying vapor.
While it may seem too good to be true, the Elf Bar has been carefully designed to offer maximum ease of use. Whether you're a veteran vaper looking for a hassle-free secondary device, or a newcomer making your first foray into the world of vaping, the Elf Bar presents an undemanding and straightforward experience. This level of simplicity makes it a frontrunner in the race of vaping devices, especially for those making the switch from traditional smoking.
With the Tobacco Elf Bar Disposable Vape, there's no refilling of cartridges, no recharging of batteries, and certainly no cleaning. Once you've puffed through its generous 600-hit lifespan, you can simply dispose of it responsibly and start afresh with a new one. This is vaping made not just easy, but effortlessly enjoyable.
Tobacco Elf Bar Disposable Vape Review
About the Brand
Born in 2018, Elf Bar is the sprightly new kid on the vaping block. From their origins in China, they've set out on a mission to redefine the vaping landscape with products fueled by relentless research, innovation, and an unwavering commitment to healthier lifestyle choices.
Design
Packing a 360 mAh battery, the Elf Bar cleverly balances power with discretion. It may not be the burliest contender, but its petite design screams convenience and portability – perfect for those seeking a vaping companion that won't weigh them down.
Features
A closer look at the Tobacco Elf Bar Disposable Vape reveals a treasure trove of cleverly incorporated features that redefine the user experience. Here's a comprehensive breakdown of what this device brings to the table:
Pre-filled Nic Salt E-liquid: The Elf Bar comes pre-loaded with nic salt e-liquid. This type of nicotine is renowned for its rapid absorption rate, efficiently satiating cravings. It also provides a smoother throat hit compared to freebase nicotine, making it an ideal choice for those transitioning from traditional cigarettes.
Long-Lasting Usage: Despite its compact size, the Elf Bar packs a punch with its longevity. Offering up to 600 puffs, it significantly outlasts the standard pack of 20 cigarettes, making it not just a healthier but also a more economical choice.
Convenience: With the Elf Bar, convenience is king. It's designed for immediate use – no refills, no recharging, no maintenance. Once you've exhausted its puff count, simply dispose of it responsibly and grab a new one.
Powerful Battery: Housing a 360 mAh battery, the Elf Bar may seem underpowered on paper. However, considering its size and disposability, the battery capacity is more than sufficient to fuel the device throughout its lifespan.
Affordability: The Elf Bar proves that you don't need to break the bank for a quality vaping experience. Its competitive price point makes it accessible to a wide range of users, without compromising on performance or flavor.
Together, these features harmonize to create a device that offers a seamless transition from traditional smoking, a no-nonsense vaping experience, and a flavorsome journey that doesn't burden your wallet. The Tobacco Elf Bar Disposable Vape brings simplicity and pleasure back to vaping, underlining its ethos that a healthier lifestyle should be accessible and enjoyable for all.
Ease of Use
Ease of use is not just a feature of the Tobacco Elf Bar Disposable Vape; it's its raison d'être. It's a breeze to operate, making it the perfect choice for vaping newcomers and a delight for veterans seeking simplicity. Let's explore how the Elf Bar puts 'ease of use' at the forefront of its design:
The first thing you'll notice (or rather, won't notice) about the Elf Bar is the lack of buttons or switches. This design choice is deliberate, creating an effortless, intuitive user experience. With its inhale-activation, using the Elf Bar is as easy as taking a breath. This design cleverly sidesteps the complexity of multiple settings, providing a truly user-friendly device.
The Elf Bar is primed for immediate use straight from the box. There's no filling, no charging, and no waiting. When you're ready for a puff, so is the Elf Bar. The moment you inhale, it delivers a smooth, satisfying hit of the pre-filled nic salt e-liquid.
When it comes to cleaning and maintenance, the Elf Bar has none. This disposable vape eliminates the need for regular upkeep, making it a fantastic choice for those seeking a maintenance-free vaping experience.
The compact design of the Elf Bar means it can easily accompany you wherever you go. Its sleek, lightweight form factor fits comfortably in your pocket, handbag, or even the smallest compartment of your backpack.
Despite its simplicity, the Elf Bar doesn't compromise on performance. Every puff is consistent, delivering the same level of flavor and satisfaction from the first to the last hit.
In essence, the Tobacco Elf Bar Disposable Vape is the embodiment of simplicity and convenience. It takes the fuss out of vaping, providing a seamless, enjoyable experience that puts the user first. Whether you're a novice looking for an easy entry into the world of vaping or a seasoned vaper looking for a no-fuss secondary device, the Elf Bar ticks all the boxes.
Pros and Cons
PROS:
Extremely user-friendly
Affordable price point
Compact and portable
Long-lasting use (up to 600 puffs)
Wide range of flavors
CONS:
The Tobacco flavor does not work for everyone
Benefits of the Elf Bar Tobacco Flavor
The Tobacco Elf Bar Disposable Vape is more than a nicotine delivery system; it's a lifestyle choice, presenting a plethora of benefits to its users.
Firstly, it offers an effortless entry point for those embarking on their vaping journey. Its simplicity and ease of use, combined with its economical pricing, make it an attractive choice for beginners and those transitioning from traditional smoking.
Secondly, it shines as a travel-friendly device, providing a discreet and portable vaping solution for on-the-go users. Its compact size doesn't detract from its performance, as it offers around 600 satisfying puffs, outlasting a standard pack of cigarettes.
Additionally, the Elf Bar delivers a balanced, rich flavor profile, perfect for those seeking an authentic tobacco experience. The roasted notes, creamy undertones, and nutty base of the tobacco flavor offer a satisfying, full-bodied hit that both mimics traditional smoking and elevates the experience.
For those looking to experiment, the Elf Bar's range of flavors from fruits to candy provides a fun and diverse palate to explore, appealing to a broad spectrum of taste preferences.
Lastly, the health benefits cannot be overlooked. By eliminating the tar, ash, and harmful chemicals associated with traditional cigarettes, the Elf Bar provides a cleaner, healthier alternative without sacrificing the pleasure of the experience.
In essence, the Tobacco Elf Bar Disposable Vape combines convenience, performance, and a satisfying flavor profile, making it a compelling choice for both novices and seasoned vapers alike.
Tobacco Elf Bar Disposable Vape: Overall Impressions
The Tobacco Elf Bar Disposable Vape is an embodiment of convenience and affordability without sacrificing quality. Its sleek design, easy operation, and satisfying hits make it a worthy companion for both vape novices and seasoned enthusiasts. While its environmental footprint may not appeal to everyone, it's a game-changer for on-the-go vaping.
Looking for more vape reviews like this? Check out our Melody Max Vape Review, or our thoughts on the Elf Bar Clear.
Frequently Asked Questions
Q: Can I refill the Tobacco Elf Bar Disposable Vape?
A: No, the Tobacco Elf Bar Disposable Vape is not designed to be refilled. It comes pre-loaded with a flavorful nic salt e-liquid, providing up to 600 puffs, which significantly outlasts a conventional pack of cigarettes. Once the e-liquid is depleted, simply dispose of the device responsibly and start a fresh one.
Q: Does the Tobacco Elf Bar Disposable Vape require charging?
A: No, the device does not require charging. It houses a 360 mAh battery which, though might appear modest, is perfectly engineered to last through the entirety of its puff lifespan. Its disposable nature eliminates the need for recharging, adding to its convenience and user-friendly appeal.
Q: Does the Elf Bar Tobacco Vape come in other flavors?
A: Yes, Tobacco is one of the four flavors that Elf Bar has in stock for us with these vapes. The other three flavors are fruit, menthol, and candy.