The eGo AIO gives you that next-level vaping experience with ultimate convenience!
Joyetech's new all-in-one vape pen for e-liquids is the easiest to use mod we have ever seen. This is a favorite among our staff. Not only does this thing vape like a charm, it can also light-up with 7 colors to choose from. The eGo AIO has a top loading tank for e-liquids with child-resistant cap making it easy to load but tricky to unscrew unless you know how. Simply push down and twist to open for refilling or changing coils.
The Joytech eGo AIO brings a new twist on compact vaping. The pressure twist cap features convenient top filling and acts as a child safety. The spiral structure mouthpiece allows for optimum air flow. The anti-leaking tank has a 2ml e-liquid capacity built into a 1500mah stick style battery so it fits into your pocket or purse with ease. The unit also has a built in light with 7 different colors. Whether you're new to sub-ohm vaping or are just looking for something a little smaller than the traditional box batteries the eGo AIO has it all!
The eGo AIO quick kit is both a great vape for beginners and regular subohm vapers. This mod's draw is restricted giving you more precision and controlled inhales that aren't overpowering making this starter kit great for both beginners and advanced users.There are also a variety of coils to chose from to satisfy every type of vaper.
Features and Specs:
Dimensions: 4-3/4″L x 3/4″D  (w/ Drip Tip)
19mm Diameter
2ml tank
1500 mAh Battery
NEW Cubis Leak-Resistant Cap Design
Top filling Atomizer Design
7 Indicator Light Colors
Top Adjustable  Airflow Valve
Micro USB Charge Port
Over Charge Protection
Over Current Protection
Over Discharge Protection
What You Get:
1 x eGo AIO Mod
2 x BF SS316 Atomizers - 0.6 ohm
1 x eGo AIO Drip Tip
1 x Micro USB Cable
1 x Users manual
1x Warranty Card
Compatible Replacement Coils:
Warning: This kit comes standard with subohm coils which are designed to give more vapor output. Newer and unfamiliar users may find subohm vaping harsh or overwhelming when using stronger e-liquids. You may hear a popping or crackling sound when heat is applied to e-liquid, this is normal and juice may jump into your mouthpiece (drip tip) which can require regular cleaning. 
Customer Reviews
Write a Review
Ask a Question
Filter Reviews:
vape
battery
Vapes.com
price
pens
something
coils
item
others
charge
04/03/2020
Pamela S.
United States
Joyetech eGo AIO Vape Pen Starter Kit
I love this product, but I keep trying to buy a couple more and it is always out of order. Please say you will be bringing back.
03/25/2020
Lori F.
United States
Love it!!!
The best vape ever! Lasts all day into the night. I only charge once every 24 hrs!
03/20/2020
Anonymous
United States
Vape pen
Easy to fill, use and long lasting battery.
03/19/2020
Anonymous
United States
EGO AIO VAPE PEN STARTER KIT
NICE TO HOLD. LOVE THE STYLE
03/19/2020
Melissa L.
United States
EGO Vape pen
I love this product. It has always worked as expected. Lasts the longest I have tried and is strong enough for those of us who have quit smoking and looking for a good sup. I would recommend this item for that purpose highly.
03/19/2020
Steve T.
United States
Excellent
Very fast delivery and I am very happy with vapes
03/05/2020
Anonymous
United States
Easy A
For a simple person who wants something close to representing what you quit. This is the item. Bare maintenance and no mess. Still like a cigarette.
03/02/2020
Steven B.
United States
12/03/2019
Anonymous
United States
Vapepens are great!!!! The coils
Vapepens are great!!!! The coils you sent me will not fit pens???¿ griffisscotty@gmail.com
12/03/2019
Carol K.
United States
Joyetech
Really like it. However if mine gets damaged for some reason and I need a new one it's usually out of stock and have to purchase one elsewhere. Same with the juice. Need to keep up with stock.
11/25/2019
Johnny b.
United States
Great lil vPe
I love that you can Change the colors works great thanks vapes.com 10/10
11/03/2019
Anonymous
United States
Easy, Reliable Vape Pen
The Joyetech all in one Vape pen is small, reliable & easy to use. This purchase replaced the Vape pen I lost. I have tried several others. The Joyetech AIO pen is easy to use and always works.
11/02/2019
Henry W.
United States
Simple
Definitely did what it was supposed to do.
10/17/2019
DHall
United States
Great vape
First of all, the vape looks awesome. I got the Crackle B. It feels like it's made of metal and has some good weight to it. The instructions that came with it weren't very informative, but there's multiple videos online showing how to put it together. It has really good child protection, including a way to shut it in and off. Produces a great cloud and had an adjustable air intake. Really happy with this vape!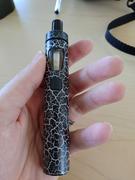 10/08/2019
Gia J.
United States
Joyetech ego AIO
I have been vaping for over 6 years and have tried many styles, the AIO is by far my favorite, I have purchased alot of these, as I gift them also. Affordable, reliable, smooth, beautiful. I have 4 different colors for myself, I cant say enough about them. Thank you for making them AFFORDABLE! Vapes.com is awesome!
10/03/2019
Anonymous
United States
Awesome Product
These are excellent