Living the Californian dream means reveling in the golden age of vapes and cannabis. But let's be real: stepping into a dispensary or smoke shop can sometimes feel like navigating a maze. Enter the game-changer: LA's burgeoning vape delivery services.

As they've sprouted like wildflowers, so has the importance of discernment, given the intricate county-specific regulations on cannabis. While smoke shops abound for your cannabis cravings, it's crucial to seek trusted avenues.
With that, we've meticulously curated a list of LA's crème de la crème in vape delivery, ensuring quality isn't compromised. Craving a side of weed disposables? We've got you. Dive in to discover LA's finest at your fingertips.
Key Takeaways
Ordering vaping pens from home has never been easier, with services delivering products in California in as little as a few minutes.
Buying vapes from home can be as easy as visiting the delivery service's website, adding your favorite carts, validating your ID, and paying for your order.
There are plenty of different services, from weed vape delivery services to alcohol, snacks, and nicotine-based vaping devices, in a single stop.
Remember to choose the delivery service that fits best with the brands you consume, whether you want cigars directly sent to your home or simply want some delicious tokes from your pod-like system, there is a shop for everyone.
How We Made Our List for the Best Vape Delivery Los Angeles
The first thing I had to take a look at here was licensing. Despite California being super chill with cannabis, they are Karens when it comes to delivering it. There are a bunch of regulations to take care of here. So, all of the dispensaries here comply with local rules and regulations.
We made sure each of these services carried renowned brands that we could actually check, but also how easy they were to use for the user. So if you are looking for Los Angeles vape delivery right to your doorstep with services, we've got you covered.
Buying from most of these sites is pretty easy, just add your favorite products to your cart, use a valid ID to ensure you are over 21 years old, and proceed to payment. Some services can bring you vaping pens in a few hours, while others can take a little longer. So take this into account when ordering from these services.
Best Vape Delivery Los Angeles
With convenience being the modern mantra, having vapes delivered straight to your sanctuary is now a breeze. Dive into our curated list to uncover LA's top-notch delivery services. Imagine this: pinpointing your go-to vape pen, a swift ID verification, and voilà—your cherished items are en route to your doorstep. The City of Angels just got a tad more heavenly for vape enthusiasts.
 CanEx
CanEx is one of the leading cannabis vape delivery services in the United States. Boasting an impressive inventory, they stock cannabis-infused vape pens spanning a gamut of price points and quality. Venture beyond pens to explore a world of aromatic flowers, tantalizing edibles, refreshing cannabis drinks, potent tinctures, and must-have accessories, from nifty grinders to artisanal papers and pipes. It's undeniably our gold standard for swift delivery and a holistic online cannabis shopping experience.
Why CanEx Tops Our List for Best
We chose CanEx as our number one choice thanks to its speedy delivery and safe choice, and basically, because they carry big names like Alien Labs, Cali Heights, and even Keef. They also have a GPS tracking system where you can see where your courier is and how much it will take to get your address. They are also one of the few services that'll save you a buck by not operating with a delivery fee.
Featured Products You Have to Try
If you want to try some high-quality vapes, we recommend trying some of the following products.
The 1G Dream Queen disposable Cartridge by Cali Heights is the perfect choice if you want a discreet vaping experience with delicious flavors. With delicious hybrid effects that can be relaxing but also have intense flavors with mango, menthol, and even sweet fruity notes.
Muha Meds is one of the classics of the cannabis scene, with delicious-tasting carts and high-potency extracts. While you'll need a battery for this type of device, the 1G Watermelon Skittlez Cartridge is perfect for enjoying some candy-flavored Delta-9 THC tokes during the day
Lastly, we recommend the delicious Jeeter Juice Papaya Live Resin Disposable Straw. This indica-inspired strain comes with 0.5g of high-potency extract with delicious fruity and tropical notes with just the right spice.
Eight Vape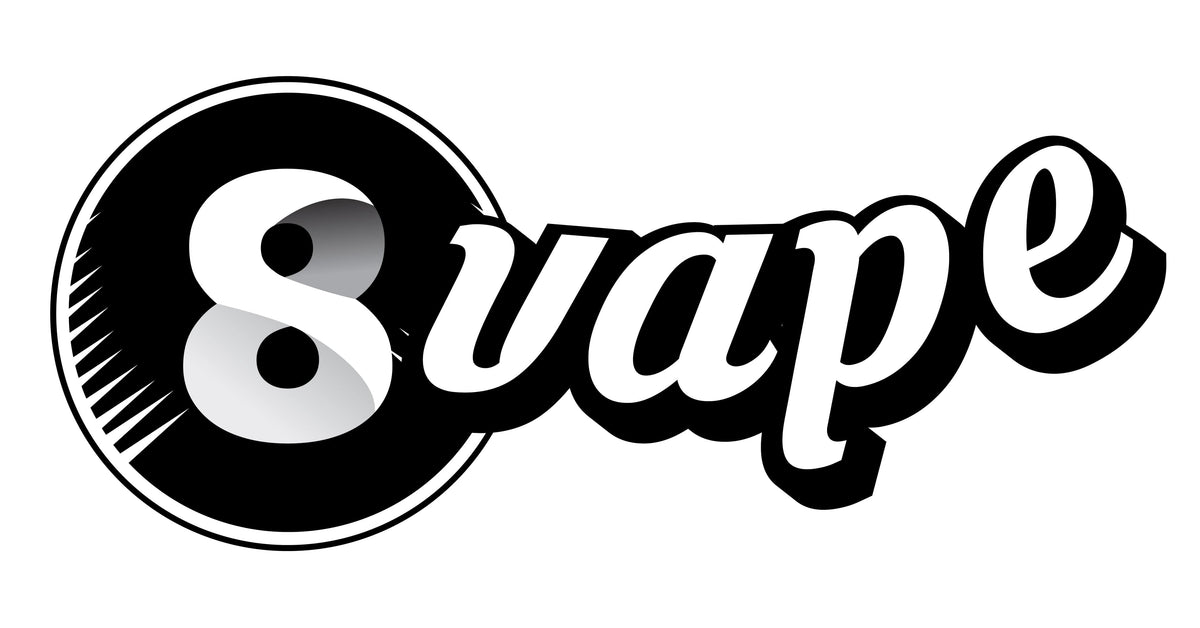 Eight Vape is a premier online vaping hub, boasting an eclectic array of e-liquids and tantalizing flavors. Whether you're on the hunt for a sophisticated system with customizable components, eager for an e-liquid top-up, or keen to kickstart your vaping journey with their beginner kits, Eight Vape emerges as an unparalleled online smoke shop destination, ready to deliver right to your doorstep.
Reasons Why Eighty Vape Makes Our List
We love Eight Vape due to its varied e-liquids, different disposables, and general high-quality customer service. They also have frequent deals and discounts and carry renowned brands like Uwell, Smok, Vaporesso, and Voopoo.
Featured Products You Have to Try
If you already have a system at home you can use, we recommend getting the Graham Slam Golden Slam Vape Juice. With 100ml of juice, this tastes like a cinnamon golden graham cracker dunked in a glass of cold milk. You can try this in three different nicotine levels, with 0 mg, 3 mg, and up to 6 mg of nicotine per bottle.
Or if you want something already assembled and ready to toke, the Dummy Vape (Tekashi 6ix9ine) is a disposable option with 5% of nicotine levels and about 8000 puffs per device. They carry over 20 different flavors, including Twisted Tangy, Gangsta Punch, and Fruit Frenzy, all with tasty tokes and very good airflow.
Juice Fly
Meet one of the best places where you can get everything you need for your weekend, from beer, and wine, to delicious vape pens and smoke, Juice Fly is one of the best alcohol and vape delivery in Los Angeles. With known brands like FLUM, Elf Bar, and Phun, they've got a pretty good catalog to choose from besides seasonal offers and specials.
Reasons Why Juice Fly Makes Our List
Juice Fly is a pretty solid choice if you want to get alcohol and vapes for the weekend. We love high-quality products, a massive array of products, and, generally, the diversity of products you can get with a speedy delivery service.
Items You Cannot Miss Ordering
For newcomers, the Pop Pocket with 0% nicotine. It comes in two delicious flavors: the herbal and earth Jewel Mint or the sweet and decadent Fruity Bars. This disposable vape device is perfect if you want to take it discreetly on the go without having the hassle of cleaning or maintenance.
Or you can get a classic called Elf Bar with 4% of nicotine content. With over 20 flavors and a high-performance device with about 5000 puffs per device. These are perfect if you want to try some delicious toking on the go, and with so many flavors to choose from, you won't ever get bored.
Related Article: Elf Bar BC5000 Disposable Review
Suggested Cannabis Pairing
If you are ordering some tasty vape pens, you could skip on the alcohol and try a THC-infused beverage instead, like the Orange Kush Soda (12oz) from Keef. With 10mg of Delta-9 THC per can, this soda is perfect for unwinding, relaxing, and enjoying your weekend.
TGR Go
For people looking to get their smoke shop supplies and nicotine vapes or cigs, you'll want to take a look at TGR Go. They are pretty quick with small orders, and most orders are placed in as little as a day. With brands like the iconic Juul, to some delicious cigars, they'll bring whatever you feel like tasting from the online smoke shop to your home.
Reasons Why TGR Go Makes Our List
This delivery service made it to our list due to its quick delivery times, its vast selection of vaping pens, and its catalog of smokeshop products and tools. They are also one of the only vape delivery services in our list carrying cigars, which is rare and can really change your weekend to get that fancy feeling of opening your own curated cigar.
Items You Cannot Miss Ordering
From this service, we recommend trying the iconic JUUL pods, which are perfect if you prefer a pod system to typical vapes. These use external chambers connected to the battery and are more difficult to spill or leak while in your purse, with different flavors like Menthol or Virginia Tobacco with two different nicotine content.
Suggested Cannabis Pairing
If you are the kind that likes cigars or classic tobacco-tasting vapes, you might want to try a swap from alcohol with the Infused Seltzer Can Passion Fruit by PBR with 10mg of Delta-9 THC. This high seltzer is light and delicious with just a tropical and tangy flavor with a mild dose of cannabis. With this type of dose, you can enjoy puffs without worrying about strong bitter flavors coming your way.
Vape Street
Lastly, we got Vape Street. With a clean design, weekly sales and deals, and all types of disposables, e-liquids, and nicotine salts, this is your one-stop for all vape users. From disposable fans to full-on starter kits with high-quality smoke, it is basically like having your own smoke shop right at home.
Reasons Why Vape Street Makes Our List
Besides carrying some of the most popular smoke shop brands like Smok, UWell, and Vaporesso, they have a pretty good stock with affordable prices. They also won the best vape shop award in Best of Las Vegas in their location in Nevada, so we had to include them as an alternative coming from out-of-state.
Items You Cannot Miss Ordering
The folks at Vape Street are official resellers of Smok, so if you want to try a vaping device with different types of juice, you can use the Smok Novo 4 25W Pod System. Available in 5 different colors, this model works perfectly with e-juice, so you can pick and choose and create the tailored experience you like. And thanks to its adjustable airflow, and friendly top-filling system, you can get a reusable vape system to use at home.
Suggested Cannabis Pairing
Whether you want a tailored experience or a ready-to-use pen, you can enjoy both with some delicious Sour Watermelon Vegan Fruit Chews by Smokiez. These tasty treats are perfect if you want a hybrid-like cannabis experience, perfect for unwinding during the week while taking delicious rips. It is also the easiest way to spend a Saturday afternoon with some tasty edibles, so give it a try if you like infused treats.
Final Thoughts
Whether you want some delicious vape puffs with different flavors or want to unwind with some weed-based tokes, we checked some of the best vape delivery in Los Angeles. Some deliveries have other products available as well, like alcohol or other party items and snacks you might need. Others have a vast array of vapes available, with known brands like Elf Bar, Flum, Hyppe, and Puff.
We also covered an alternative to nicotine vape pens with cannabis-based vape pens and edibles with CanEx, the innovative weed delivery service in the Los Angeles area. Remember to pair your favorite vaping pens from these with their delicious products, from disposable, ready-to-use extract pens to delicious edibles and prerolls to mix with your tasty, delicious sessions.
Related Article: Can You Vape in Vegas Casinos?
Vape Delivery Los Angeles: Frequently Asked Questions
Where Can Cannabis be Delivered in California?
Cannabis can be delivered within counties that have licensing on weed delivery. You can check your county or city's regulations over here.
Can You Ship Vapes to California?
Non-tobacco vapes are legal to ship all around the US, but weed vapes are kind of a different story. Federal law still considers cannabis a controlled substance, meaning shipping from another state can still be treated differently in the state of origin.
What Is the Best Cannabis Vape Company?
There are many cannabis vape companies out there! Just make sure to choose one that has lab reports and high-quality extracts and find one that adjusts to your budget and the quality you are looking for.
Can I Still Buy Vapes Online California?
Yes, you can buy vapes online in California just make sure they can deliver your order to your home.
Is there an App for Vape Delivery?
While there are services like CanEx and Eight Vape that work through web services, there is currently no official app for weed delivery. UberEats doesn't carry cannabis products in the U.S., so you'll have to work with websites.