Constant evolution and innovation in the world of cannabis is a fact accentuated by the continuous search of users for new cannabis experiences and new consumption methods that provide something beyond what is already known. In this sense, THCA vape carts are in the spotlight, emerging as a promising option to deliver a new set of enhanced effects, possible benefits, and an improved cannabis vaping experience.
In the following article, we will explore the broad therapeutic potential this novel cannabinoid holds and its diverse functionality. We will also present a thoughtfully curated selection of the top THCA vape carts in the current cannabis market and talk a little about the factors we consider to make our carefully selected list. This post aims to offer you the best guidance when choosing the THCA cart that better suits your specific preferences and needs. So, if you are considering exploring the novel world of THCA vaping, you have found the best map!
Last update was on: November 6, 2023 12:22 am
Key Takeaways
What differentiates THCA from THC is that THCA retains its acidic or non-activated form, which means that it does not carry the same psychoactive properties as its activated counterpart, THC.
The consumption of this cannabinoid continues to gain popularity thanks to the variety of possible benefits that it could provide.
Understanding how THCA can make you feel when consuming it is vital to make the best decision when selecting your cartridges.
To select the best THCA carts, our experts look at several critical factors that ensure these cartridges can give users the best THCA experience possible.
Selecting the right THCA strain is a personal journey that depends on each user's preferences and intended use.
A Quick Look at the Best THCA Carts
What Are the Benefits of Quality THCA Products?
Tetrahydrocannabinolic acid, or THCA, is one of the more than 100 naturally occurring cannabinoids in the cannabis plant. It is the predominant cannabinoid in raw marijuana and the famous Delta 9 THC precursor. What differentiates THCA from THC is that THCA retains its acidic or non-activated form, which means that it does not carry the same psychoactive properties as its activated counterpart, THC.
Scientists are still trying to understand all the therapeutic potential that THCA packs. However, the consumption of this cannabinoid continues to gain popularity thanks to the variety of possible benefits that it could provide. Additionally, THCA presents a legal alternative to enjoy psychoactive effects when decarboxylating it.
Whether you want to consume THCA in its raw or activated form, choosing quality products is an advantage in reaping the potential benefits of this cannabinoid with minimal risk of adverse effects. Here are some of the potential benefits of choosing quality THCA products.
Anti-inflammatory Properties
There are some preclinical studies in which THCA exhibits potent anti-inflammatory properties. This makes it a promising candidate for managing conditions characterized by inflammation, such as arthritis, Crohn's disease, and multiple sclerosis.
Antiemetic Effects
Research suggests that THCA may have the potential to regulate nausea. This could particularly benefit people undergoing chemotherapy, suffering from motion sickness, or dealing with chronic nausea.
Appetite Stimulation
In addition to regulating nausea, THCA may also stimulate the appetite, which may be especially helpful for people experiencing loss of appetite due to medical treatments or conditions such as anorexia.
Neuroprotective Properties
THCA has shown potential neuroprotective effects in animal studies. These effects could be valuable for conditions like Parkinson's disease, Alzheimer's, and other neurodegenerative disorders.
Non-intoxicating
As we mentioned, THCA, in its raw form, is a non-psychoactive cannabinoid. This means that it does not induce the characteristic high associated with cannabis use. Consequently, THCA products that do not require heat to consume them (such as gummies or oils) could be an ideal choice for users seeking the therapeutic benefits of cannabinoids without the mind-altering effects. Nonetheless, consumption methods that require heating THCA (such as vaping or smoking THCA products) decarboxylates THCA into THC, giving it very similar psychoactive qualities to the famous Delta 9.
How Does THCA Make You Feel?
Understanding how THCA can make you feel when consuming it is vital to make the best decision when selecting your cartridges. These are some of the sensations you might experience when vaping THCA cartridges.
Focus-boosting Effects
Users often report feeling clear-headed and focused when consuming quality THCA products. This could be advantageous for tasks that require mental alertness and concentration.
Calm and Relaxation
Although the raw form of THCA lacks the euphoric high that THC produces, it may still induce a feeling of calm and relaxation. This makes it a popular choice for those seeking relief from stress and anxiety without the sedative effects or overwhelming high associated with some THC strains.
Pain Relief
THCA's potential anti-inflammatory and analgesic properties may relieve various types of pain, including chronic pain and migraines.
Enhanced Senses
Some users report heightened sensory perception when consuming THCA. Colors may appear more vibrant, sounds more defined, and flavors more pronounced.
Best THCA Carts
Here is a brief list of what we consider to be the best THCA carts and brands on the current cannabis market:
1. Botany Farms Live Resin THCA Cart
Botany Farms' THCA Live Resin vape cartridge offers an authentic cannabis experience. Priced at $35, it comes in three flavors: Durban Poison, OG Kush, and Northern Lights. With 77.3% total cannabinoids, including 37% THCA and 36% CBD, it's a potent choice. The flash-freezing technique preserves terpenes and cannabinoids, delivering a true-to-plant taste.
The proprietary extraction method ensures a full spectrum of flavors and cannabinoids. This well-balanced blend offers the benefits of high CBD flower along with THCA's psychoactive properties. It's a milder alternative to pure THC products, suitable for any time of the day.
PROS:
High Cannabinoid Content
Full-Spectrum blend
Suitable for any time of the day, but caution is advised due to THC content
CONS:
Requires a separate 510 Threaded Battery
Why Botany Farms Is the Best Overall Name for THCA Carts?
Botany Farms stands out for its commitment to quality and authenticity. Their THCA Live Resin cartridge offers a full-spectrum, potent experience that closely mimics the cannabis flower. With a proprietary extraction method and a focus on purity, Botany Farms sets the industry standard for THCA carts.
The Super Silver Haze 2G THC-A cartridge by Half Bak'd is a game-changer in the cannabis lifestyle. Retailing at $29.99, this 2-gram cartridge promises to elevate your Saturdays to "Super Sativas". Crafted meticulously with a potent blend of THC-A, Delta-8, and THC-P, it pledges an unforgettable vaping experience.
The product encourages users to start with 1-2 puffs to gauge individual tolerance, ensuring a personalized and safe session. Whether you are a veteran or a newcomer to the cannabis scene, this cartridge stands as a promising choice, offering not just a product, but an experience that is hard to forget.
PROS:
Offers a unique blend of THC-A, Delta-8, and THC-P
Adheres to strict manufacturing and testing standards
Provides a premium experience at a reasonable price
Comes with a money-back guarantee
CONS:
High potency of THC-P may not be suitable for new cannabis users
Last update was on: November 6, 2023 12:22 am
Delta Extrax definitely hit the bullseye as one of the best options on THCA carts with their Adios Blend 2G Cartridge duo pack. This dual pack offers a unique and versatile THCA experience that's hard to match.
What separates the Adios Blend cartridge duo from the rest is that it offers a potent THCA + Delta-9P THC blend and combines different strains to provide a rich mix of terpene profiles, adding depth to the overall experience.
The Delta Extrax' Adios Blend 2G Cartridge Duo packs come in two options, each with two different strains, offering a 2-gram THCA cart of the Sativa Berry Pie strain and one of the hybrid Apple Fritter. The other option contains a 2-gram THCA cart of the Indica Grape Kush strain and another of the hybrid Tangie Banana. So, if you are looking for a well-rounded THCA vaping experience, these cartridges are an option worth trying.
PROS:
Reliability and effectiveness guaranteed
Diversity in flavors and effects
Each cart carries a highly potent THCA + Delta-9P THC blend
Lab-tested for purity and quality
Carts are compatible with various vaping devices
CONS:
A little pricier than other THCA vape carts in the market
Binoid Baked Alien Live Rosin THCA Cartridge
as of November 6, 2023 12:22 am
When talking about the best THCA carts out there, Binoid CBD's THCA + Live Rosin 1G Vape Cartridge was definitely a must on this list. The high quality, versatility, and potency of these THCA carts make them a noteworthy addition to the THCA vaping world. These THCA carts' versatility is worth mentioning, ranging from their compatibility with any standard vape pen or 510-threaded battery to the diversity of flavors and strains they offer.
Furthermore, these THCA carts provide effectiveness regardless of the strain you choose, thanks to the high concentration of THCA they carry. Binoid CBD has a reputation for offering the best products on the cannabis market, and these THCA vape carts are no exception. So, if you are looking for an excellent option to venture into the world of THCA, the THCA Live Rosin cartridge is undoubtedly an ideal option.
PROS:
High quality and reliability
Contains a pure 99% THCA distillate
Compatibility with different batteries and vaping devices
Enhanced flavors thanks to its live rosin content
Available in a variety of strains
Third-party lab-tested
Delta Extrax THCA + THCP 2G Cartridge | Wreck'd Series
as of November 6, 2023 12:22 am
Delta Extrax is a stronghold regarding THCA vaping, and their THCA + THCP 2-gram carts from their Wreck'd Series are undoubtedly worthy of mentioning Delta Extrax for the second time on this list. This potent and flavorful cartridge collection stands out as one of the best options for anyone who wants to try the potential benefits of THCA firsthand.
By itself, Delta Extrax has the reputation of being a brand that offers premium quality products made with first-class ingredients, and these vape cartridges are a living example of that. Their combination of THCA and THCP in a convenient cartridge offers users an enjoyable and effective experience, delivering delicious clouds of vapor and long-lasting effects.
Whether you're looking for relaxation or relief, Delta Extrax's Wreck'd Series THCA + THCP 2G Cartridge is a top-tier choice for those looking for a high-caliber experience.
PROS:
Carries 2 grams of an exclusive THCA, THCP, THCjd, Delta 8, and live resin blend
Offers Delta Extrax high-quality and effectiveness
Provides a distinctive and potent experience
Available in four different strains
Convenient and versatile easy-to-use design
Unique set of effects
CONS:
Do not include 510-threaded battery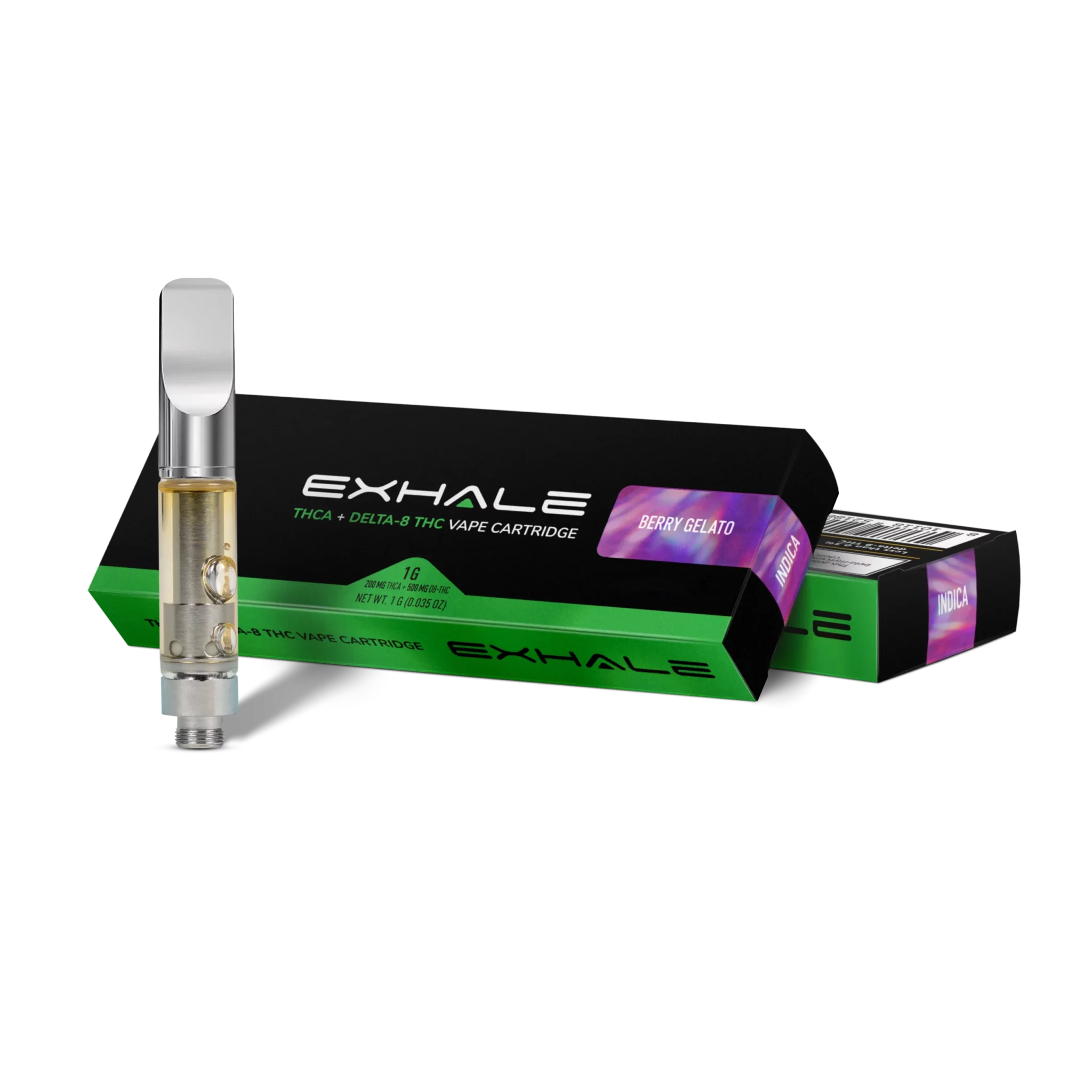 Exhale Wellness Berry Gelato THCA Carts
as of November 6, 2023 12:22 am
When making a list of the best THCA carts on the market, we definitely had to include Exhale Wellness's Berry Gelato 1-gram THCA carts. These THCA cartridges reflect the excellence that characterizes this brand and position it as one of the best in the cannabis market.
Berry Gelato vape carts combine a potent mix of THCA and Delta 8, exceptional flavor, and incredible cannabis craftsmanship, making them a must-try choice for connoisseurs and enthusiasts alike.
With these carts, Exhale Wellness perfectly captured the essence of the Berry Gelato strain, offering users a delectable blend of fruity sweetness and creamy undertones with each draw. Exhale Wellness' attention to detail put into the manufacturing of these cartridges is evident, ensuring a consistent and smooth vaping session.
PROS:
Provides the delicious flavors of the Berry Gelato strain
Crafted with premium ingredients
Contains 200mg of THCA and 500mg of Delta 8 THC
Suitable for experts and newcomers alike
Compatible with any vape pen or 510-threaded battery with a standard connection
Lab-tested for quality
CONS:
Exhale Wellness doesn't ship to some states
How We Made Our Choices for the Best THCA Carts
To select the best THCA carts, our experts look at several critical factors that ensure these cartridges can give users the best THCA experience possible. Factors such as the reputation of the brand and the verification of the safety of each product through laboratory tests are vital to verify. We also look at potency, specific cannabinoid content, and the characteristics of each strain used. It is also essential to consider the extraction method used to obtain these cartridges' concentrates since they can indicate their safety and purity level.
After verifying the inherent characteristics of each product, we look for reports from other users who have tried them to get a better idea of the overall experience each product can provide. We must highlight that our selection relies on the evaluation of the mentioned general characteristics. But, the ultimate decision on the best THCA to cart out there depends almost entirely on each individual's preferences and needs. However, considering these factors can give you a good idea of where to start.
What to Look For in the Best THCA Cart
If you wish to further evaluate options outside of this list, it is crucial to consider the following factors to ensure that the cartridge you choose can give you the best THCA vaping experience possible.
THCA Concentration: Check the product label to verify the THCA concentration, usually expressed in milligrams or as a percentage. Newcomers might opt for lower concentrations, while seasoned users might prefer higher potency.
Terpene Profile: Terpenes are the aromatic compounds in cannabis that contribute to its flavors and potential effects. Look for THCA carts that provide information about these terpenes, as they can influence the overall experience.
Lab Testing: Try to choose products that undergo rigorous third-party testing. Test results should be readily available and confirm the purity and safety of the product.
Strain Information: If strain-specificity is important to you, you can opt for THCA carts that disclose the cannabis strain used in the extraction process. Different cultivars may provide different flavors and influence the final effects differently.
Understanding how each product works, its effects, potential benefits, potency, and safety could help you have a better THCA vaping encounter. Choosing with informed judgment is crucial to ensure you get the THCA cart that best matches your expectations.
How to Choose the Right THCA Strain for You
Selecting the right THCA strain is a personal journey that depends on each user's preferences and intended use. Here are some considerations to help you make a well-informed decision.
Desired Effects
Think about what you want to achieve by consuming the best THCA flower, or vape. An Indica strain with calming terpenes like myrcene might be ideal if you are looking for relaxation and stress relief. In contrast, Sativa strains with uplifting terpenes like limonene might be more suitable if you want more focus and creativity-boosting effects.
Flavor Profile
Consider the flavor and aroma you prefer when choosing. Some strains offer citrusy and fruity notes, while others have spicy or earthy undertones. Exploring different flavor profiles could enhance your overall experience.
Medical Needs
If you have any medical conditions or symptoms that you want to target, research which strains are most effective for those purposes. For example, if you are managing chronic pain, strains with high levels of beta-caryophyllene could be beneficial.
Tolerance and Personal Experience
In general, your level of experience with cannabis and THCA should also guide your choice of strain. Strains with lower THCA concentrations may be ideal for novice users to avoid overwhelming effects.
Experimentation
It is also ideal to experiment with different strains to find the one that best suits your preferences and needs. Keep a journal of your experiences to track which variety delivers the desired effects.
THCA Carts: Frequently Asked Questions
What is a THCA Cartridge?
A THCA cartridge is a pre-filled vape cartridge containing a tetrahydrocannabinolic acid-rich concentrate. These cartridges can be of different strains and contain other mixtures of cannabinoids besides THCA.
How Potent Is THCA?
The potency of THCa can vary depending on the product and the specific strain. But typically, the concentration in high-quality THCa products ranges from 20% to 90% or more.
What Is the Best Voltage for THCA?
The best voltage to vape THCa can vary depending on the specific cartridge and device used. However, the commonly recommended voltage range is between 3.3V and 4.0V to achieve optimal vaporization and flavors while avoiding overheating.